Welcome to Prescott Hill Pottery
You are visiting the On-line home of Betsy Levine & Prescott Hill Pottery. From here you can explore the studio, learn about the firing methods, find out how to visit the studio and gallery. You can view a sampling of my pots, find out where I will be showing, and easily buy pots directly on line.
About the pots
I make useful pots (tableware, storage jars and vases) as well as evocative vessels in high-fire stoneware and porcelain. I fire most of my pots in my gas-fired soda kiln. I also fire with other potters in wood or salt atmospheres. For more information about my firing methods, click here.
My pots are fired to cone 10 (2350 °F). Unless specially noted, you can assume that they are vitreous, food-safe, oven-safe and dishwasher-safe. Treat them well, and do not shock or drop them, and they should give many years of pleasurable service. To order pots on-line, click here.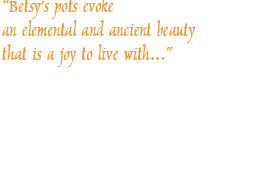 Inspiration
I have always been interested in artifacts, in ancient historical records, symbols on bowls, marks on tablets, the very earliest impulses to put our 'prints on the sands of time,' to decorate the implements of necessity, and thereby to create magic in their use. Placing marks on a surface feels like a profound act of humanity.
In making pots, I am exploring the relationship we have with everyday objects experienced through sight, touch, and emotion. It's about grounding that spark of creative intention in partnership with the elements of earth, water, fire and air.
Making a container to hold and store seems a visionary statement of our place in the environment. Marking the surfaces with symbols and textures of the hand expresses spirit in a language as ancient as the first pots. To view a portfolio of my pots, click here.